In celebration of Local History Month we've been taking a look at some of the key figures and locations which made Belfast, and in particular Queen's Island, the place it is today.
Having looked at the origins of the area and it's most famous resident, Harland and Wolff, in Queen's Island to Titanic Quarter, studied the remaining historic graving docks, and met one of the shipyard's best known character's – Lord Pirrie, we now conclude our series with a look at women in the shipyard!

By 1911 Belfast was the 9th largest town in the British Isles, having risen from 22nd in 1800 due to the extreme growth in industries such as linen, engineering, tobacco and shipbuilding across the city. With this came simultaneous growth in employment opportunities, and while the shipping and engineering industry attracted the more typical male labour force to the city, the modernisation of the linen industry saw a boom in the number of young women leaving their homes to move to Belfast in search of work – so much so that the term 'millie' was coined as a nickname for the workforce!
The 1901 census shows just under 30 per cent of women aged 20 or over were employed in industry – a much higher proportion than average at the time in Ireland, while others found roles in domestic service or for those a little more literate there were a few opportunities in administration. One such lady was 20 year old Charlotte Brennan from Cavan, who was employed as a secretary in Harland and Wolff's drafting offices.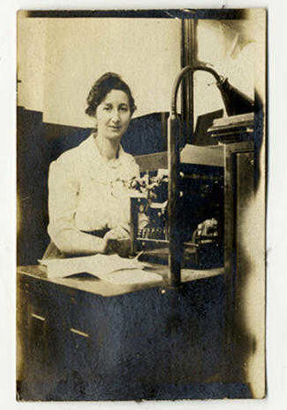 Charlotte lived in a YWCA in Donegall Square East with a number of other young ladies, and is one of the few women known to have worked at the famous shipyard during the time RMS Titanic was constructed. Due to her unique vantage point in the offices she was privy to much of the day-to-day workings for the Olympic Class liners and is said to have taken some superb original snapshot photographs of the people and places important in Titanic's construction and launch.

On 31st May 1911 Charlotte attended the launch of RMS Titanic, having been given VIP Ticket No. 116, allowing her access an executive box set aside for specially invited White Star Line and Harland & Wolff staff.

Having clearly enjoyed the day, Charlotte kept the ticket stub as a memento, and after the ship's tragic sinking wrote a personal note in shorthand on the back stating "Launched 31st May 1911. Left Belfast 2nd April 1912. Sailed on her maiden voyage 10th April 1912. Struck an iceberg at 11.45 on 14th April 1912 Sank with the loss of over 1,000 lives at 2.20am 15th April 1912." This unique artefact can be seen today on display in the Titanic Experience alongside a very rare unused launch day ticket belonging to a Captain Alexander Matier.

As time moved on it become more commonplace to see women working within the offices, curtain making and upholstery departments in Harland and Wolff, however the sense that the industrial setting was too harsh for 'delicate' women did prevail. Often it is said women working in the offices were sent home early ahead of the crush of men leaving the shipyard so as not to be trampled amongst the crowds.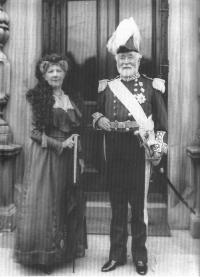 One other woman who undoubtedly had quite the impact upon Harland and Wolff was Lord Pirrie's wife, Lady Margaret Pirrie. Born Margaret Montgomery Carlisle, sister of Sir Alex Carlisle, who was known to have largely designed Titanic, she married Viscount Pirrie in 1879 and was known to take a keen interest in his work and the welfare of his employees.
 
Outside of her interests in Harland and Wolff, Lady Pirrie was involved with a number of charities and public bodies, including the Royal Victoria Hospital and Queen's university, and became the first woman Justice of the Peace in Belfast. She was also the first woman to receive the Freedom of the City, following in her husband's footsteps.

Following Lord Pirrie's death in 1924, Lady Pirrie was appointed president of Harland and Wolff, a position created especially for her.


---

We hope you've enjoyed our #LocalHistoryMonth journey! If you've missed any of the series read all about the shipyard from Queen's Island to Titanic Quarter, learn about the historic graving docks and meet Lord Pirrie right here in our Titanic Stories.
Experiences at Titanic Belfast
Experience the true legend of RMS Titanic, in the city where it all began. Unmissable and unforgettable, just like Titanic herself.
Discover and Book