What information do I need to make a booking?
Please take a look at our Teacher's Guide ahead of making a booking which will help you plan your visit. Then download and complete our booking request form from the School Visits page. 
How much is a visit and how can I pay?
Please see our booking form on the School Visits page for tour and workshop pricing. Payment will be arranged on confirmation of booking.
What tours are available?
We offer a number of guided tours specifically for education groups. These are subject to availability and run October to April.
Our self-guided tours are available to book throughout the academic year.
Do I need a guide?
No, the Titanic Experience is highly interactive and tells the story of Titanic from her beginnings in Belfast to the discovery of the wreck, and can be enjoyed as a self-guided tour.
Teachers are welcome to arrange a free recce before their visit (Monday-Friday) to support in the planning of their trip.
Guided tours can be booked for school visits (subject to availability) - we recommend these for Key Stage 2 groups.
Do we need an audio guide?
No, audio guides are not necessary to enjoy the experience.
How long should we plan for a visit?
Our guided tours are 90 minutes long. While there are no time constraints on a self-guided visit, as this takes place entirely at your own pace, we would recommend approximately 90 minutes for a
school group. Workshops are 60 minutes long.
How do I enjoy a smooth and enjoyable visit?
For a sucessful visit, please ensure you have read our handy Teacher's Guide thoroughly - it can be found in the Useful Documents section here.
A copy of our risk assessment is available on our website and can be used to inform your own and teachers are very welcome to arrange a free recce in advance of their visit.
How can I enhance our visit?
Why not book one of our curriculum-rich workshops to complement your tour?
We also recommend exploring the Titanic Slipways and the Maritime Mile.
What is the adult to child ratio?
1:15 for children aged 8-18
1:10 for children under 8
Can you help me with my risk assessment?
You will find a copy of our risk assessment on the website, which you can use to inform your own risk assessment.
What do we do if we are running late?
Please phone us on +44 (0)28 9076 6364 to let us know.
What do we do when we arrive?
Please send your leader to the Groups Desk where you will check in and collect your lanyards and wristbands before receiving your welcome.
What storage options are available for our bags?
We have a select number of storage boxes for packed lunches. These will be stored in a cool (though not refrigerated) area. Unfortunately, we do not have the facilities to store backpacks and larger bags.
What toilet facilites do you have?
We have a large number of toilets located on level -1 and level 1, immediately before your entry to the Titanic Experience. We also have a number of accessible toilets throughout the experience itself.
What should we do for lunch?
We can offer a lunch space inside our building, subject to availability. This will be allocated on a first come first served basis and should mentioned at the point of booking. We have a number of picnic benches which you are welcome to use, weather permitting.
If you would like to order food in advance, we have a small number of sandwich options available for pre-order. We require seven days' notice to facilitate this.
What happens in an emergency?
In the case of an emergency the alarm will sound and instructions will be given to make your way to the nearest emergency exit. Follow the instructions of our staff at all times.
Is your building fully accessible?
We're proud to be consistently recognised as industry leaders on a local, national, and international level for our accessibility standards.
As recognised ambassadors, we are continually working to further develop our five-star customer service by ensuring that all of our visitors' access requirements are not only fully met but exceeded. See more here.
Do you have a provision for SEN groups?
Yes. We welcome and provision for groups with special educational needs and would be very happy to discuss your specific requirements further. Please contact education@titanicbelfast.com.
Do you welcome home school education visitors?
Yes. We welcome home school education visitors and would be very happy to discuss your specific requirements further. Please contact education@titanicbelfast.com.
Where should the coach park?
Coaches should drop off groups at the designated drop off zone by the west doors. Coaches should then park in the East Yard which is behind our building just off the Queen's Road.
Do I need to supervise the students?
Yes. Students need to be supervised at all times including in our shop and on the slipways. Titanic Belfast has a compulsory teacher to student ratio of 1:15 (1:10 for KS1 groups) and a minimum of two responsible adults per group, excluding 1:1 carers.
Do you have a gift store?
Yes. Students are very welcome to use the Titanic Store. We have a range of items including stationary, magnets and postcards on offer. Students should be supervised at all times. Please note we ask that a maximum of 15 students enter the shop at any one time.
Child Protection Policy
Titanic Belfast is committed to a delivery of service that promotes good practice and protects children from harm.
Read Our Child Protection Policy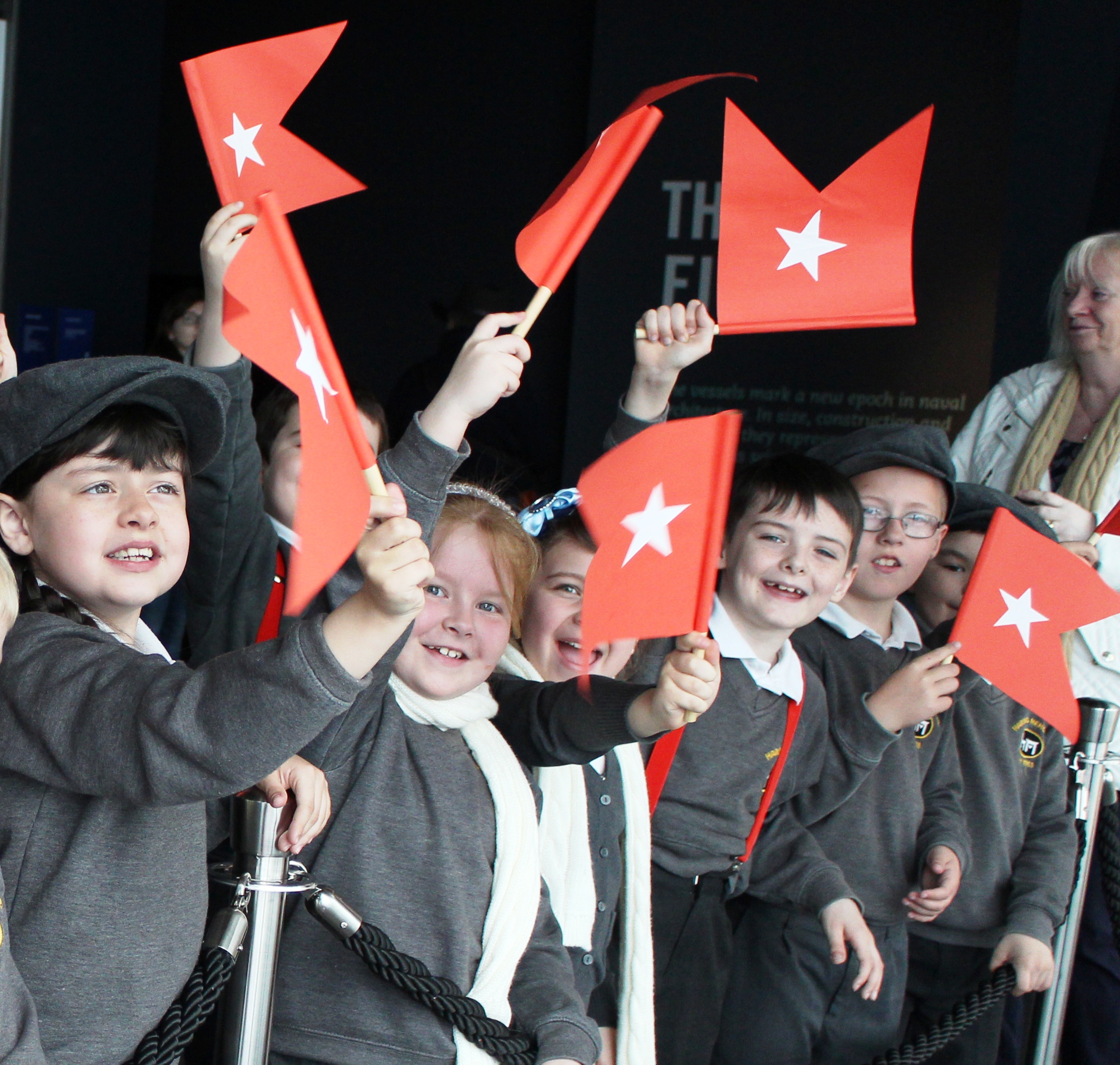 Any more questions?
If you'd like to chat through a school visit in more detail with our team, get in touch!