In celebration of Local History Month we have been having a look at some of the key figures and locations which made Belfast, and in particular Queen's Island, the place it is today!
Having looked at the origins of the area, the history behind the famous Harland and Wolff Shipyard and what is left of it today, we'll now take a closer look at one of its key figures, Lord Pirrie.
As the Spectator in 1912 describes,

"No one can deny that the marvellous development of that firm during the past thirty years is due entirely to his wonderful business acumen, organizing powers, and sagacious foresight. But for Lord Pirrie the Queen's Island would not to-day enjoy the pre-eminent position it does in the shipbuilding world."

… and the same echoes through today, with Belfast's maritime and shipbuilding heritage being a key draw for thousands of tourists to Titanic Quarter, Belfast and Northern Ireland, 105 years later!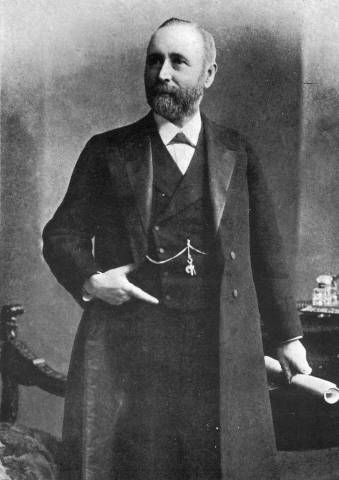 Despite popular belief, Pirrie, who is one of Northern Ireland's most famous citizens, was actually born in Quebec City, Canada East, the son of James Alexander Pirrie and Eliza Swan (Montgomery) Pirrie, who were both Irish. He returned to Northern Ireland when he was two years old and spent his childhood at Conlig, County Down. At the age of 15, after studying at Royal Belfast Academical Institution, he joined Harland and Wolff as a Gentlemen Apprentice. He would spend his whole career at the company.

Once he joined, his rise was meteoric and by 27 years old, he had been made a partner and in 1895 chairman, a position he would keep all his life.

To gain experience in ship design and to study practical shipping requirements, he travelled widely. He was known as a hands-on boss who oversaw every step of construction and frequently made unannounced inspections of projects. Pirrie directly supervised the Harland and Wolff draftsmen who created the first drawings of the Titanic in 1908. He was also due to travel aboard the Titanic but illness prevented him from joining the ill-fated passage, sending his nephew, Thomas Andrews instead. Surprisingly, the sinking of the Titanic in 1912 had little adverse impact on Harland and Wolff and during the same year the Northern Whig described Pirrie as:

'Not merely the greatest Irish industrialist of his day but the greatest shipbuilder in the world.'

However, it was not just Pirrie's engineering expertise that lead to Harland and Wolff's success but also due to his relationships and connections. For example, he nurtured a close and lucrative working relationship with first Thomas Henry Ismay and later his son, Joseph Bruce Ismay who led the White Star Line, thus, Harland and Wolff was the sole constructor for White Star. He built its ships to the highest specifications on what was termed a "cost-plus" basis.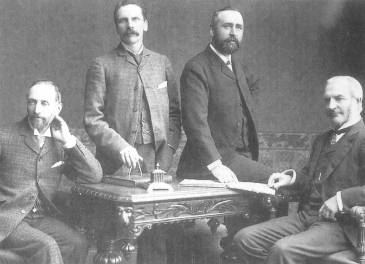 Gustav W. Wolff, W.H. Wilson, William J. Pirrie and Edward J. Harland
It is said that Titanic's design was conceived over a glass of wine and fine food between Lord Pirrie and J. Bruce Ismay. They decided speed would be balanced with quality of accommodation. It is rumoured that when Pirrie enquired as to the length of the ship, Ismay replied, glass of wine in hand, "build me a stable ship that will not disturb the sediment in these fine wines."

He was also instrumental in the formation of the International Mercantile Marine under John Pierpont Morgan, who also owned US Steel, General Electric, as well as global financial services firm JP Morgan Chase & Co which still thrives today. Together they consolidated maritime transport in the North Atlantic which had obvious benefits to Harland and Wolff and Belfast – as the firm prospered, as too did the city! Subsidiary industries grew up around shipbuilding and skilled men were imported from all over the country. Due to the success of the shipyard, Belfast became a boom-town and the fastest growing industrial city in the British Empire - this development is the focus of the first gallery in the Titanic Experience.

Due to this influence as Chairman of the world's largest shipyard, Lord Pirrie became Belfast's first citizen and served as Lord Mayor of Belfast between 1896, and was re-elected to the office as well as made an Irish Privy Counsellor the following year. This was the first of many titles he gained. He became Belfast's first honorary freeman in 1898, and served in the same year as High Sheriff of Antrim and subsequently of County Down. In February 1900 he was elected President of the Chamber of Shipping of the United Kingdom, where he had been vice-president the previous year. He helped finance the Liberals in Ulster in the 1906 general election, and that same year, at the height of Harland and Wolff's success, he was raised to the peerage as Baron Pirrie, of the City of Belfast. The following year he was appointed Comptroller of the Household to the Lord-Lieutenant of Ireland, and in 1908 he was appointed Knight of St Patrick (KP).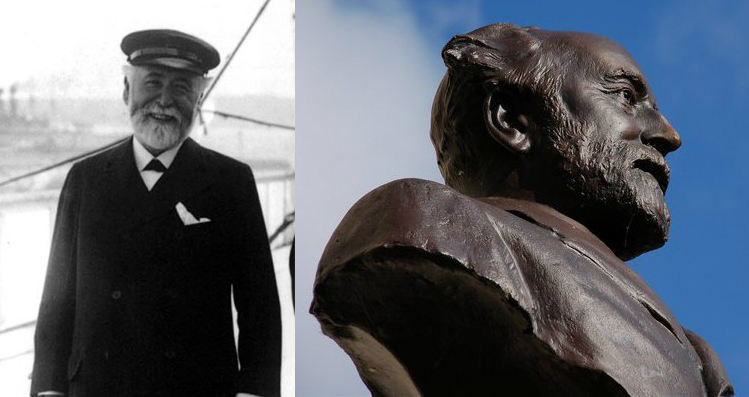 Even after his death, his connection with the Olympic class ships, which he built, continued. At the age of 77, he died of bronchial pneumonia, at sea off Cuba whilst on a business trip to South America. His body was brought from home from New York on the White Star Line's RMS Olympic. He was buried in Belfast City Cemetery overlooking his yard, where his legacy can still be seen today from Titanic Belfast, the Slipways where RMS Titanic, Olympic and HMHS Britannic once stood, SS Nomadic, the Hamilton Dock and the Thompson Dry Dock.  

A tribute to Lord Pirrie and his wife, who was described as 'a devoted companion and helpmate of her husband, always interested in and sharing his life work during the 47 years they were together', can be visited in the grounds of Belfast City Hall today.


---

Read more about the History of the Shipyard with Queen's Island to Titanic Quarter, or learn about the remaining historic Belfast Graving Docks, or continue our #LocalHistoryMonth journey as we conclude our series with a look at the women on Queen's Island.
Experiences at Titanic Belfast
Experience the true legend of RMS Titanic, in the city where it all began. Unmissable and unforgettable, just like Titanic herself.
Discover and Book