We look forward to extending our usual Titanic welcome to all our guests!
We've developed our Customer Confidence Charter, outlining our commitment to ensuring the health and safety of our visitors and crew.

Ahead of your visit, please read through the information below which outlines some new ways of doing things to ensure we can all enjoy a safe yet memorable experience!
Planning Your Visit
All guests must pre-book their tickets online.

This will help us manage the capacity of visitors within the Titanic Experience at any given time, while also enabling you to make use of our non-contact print at home or mobile ticketing for easy access to the Titanic Experience or our Discovery Tour.
Book Your Tickets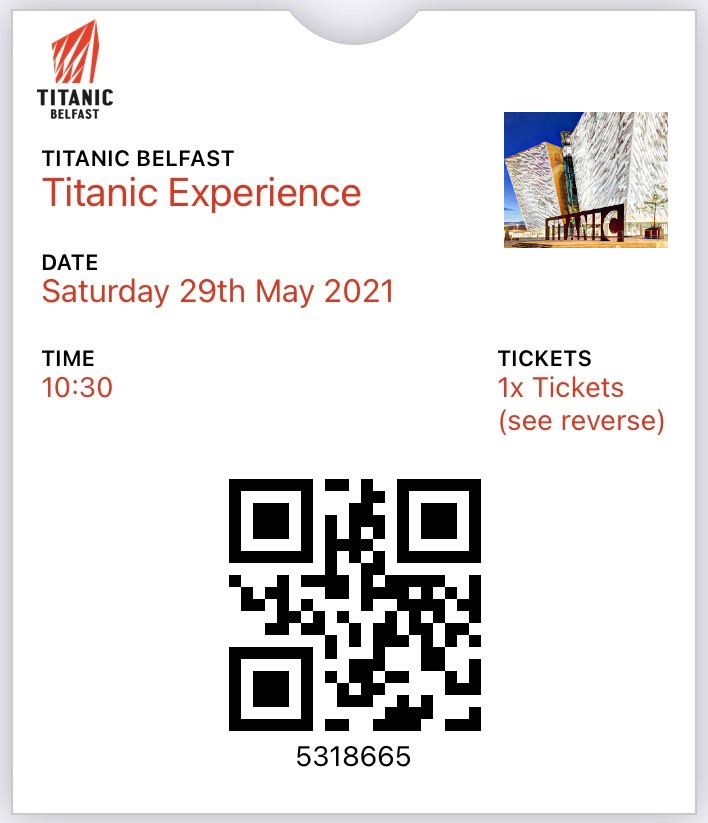 If you have booked to visit and you or any of your party develop COVID symptoms, we politely ask that you please do not visit and contact us to reschedule your experience.

Visitors who have recently travelled to Northern Ireland should also ensure that they have adhered to all appropriate travel and testing advice.
On Arrival
Although legal restrictions have lifted, we will still be managing our capacities with the use of timeslots to give our guests and staff space and ensure the best guest experience possible. We encourage all visitors to continue practicing social distancing where possible by following our one-way trail throughout the experience.
We also ask that our guests help us to prevent the spread of the virus by observing high standards of personal hygiene whilst visiting, including washing your hands regularly and making use of the hand sanitisers provided in convenient locations.
Please be mindful of other guests and help us give everyone the space they need while moving around the building.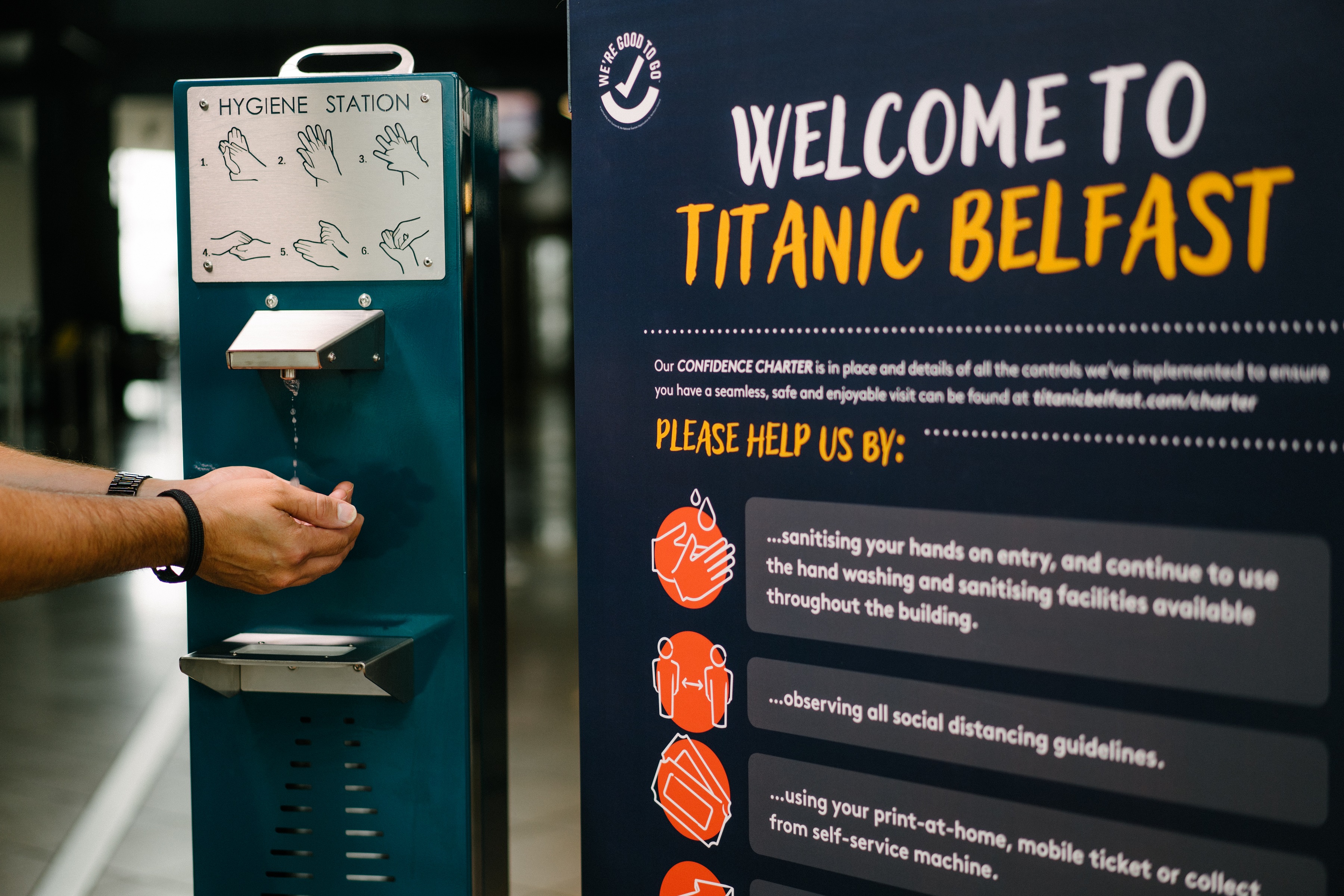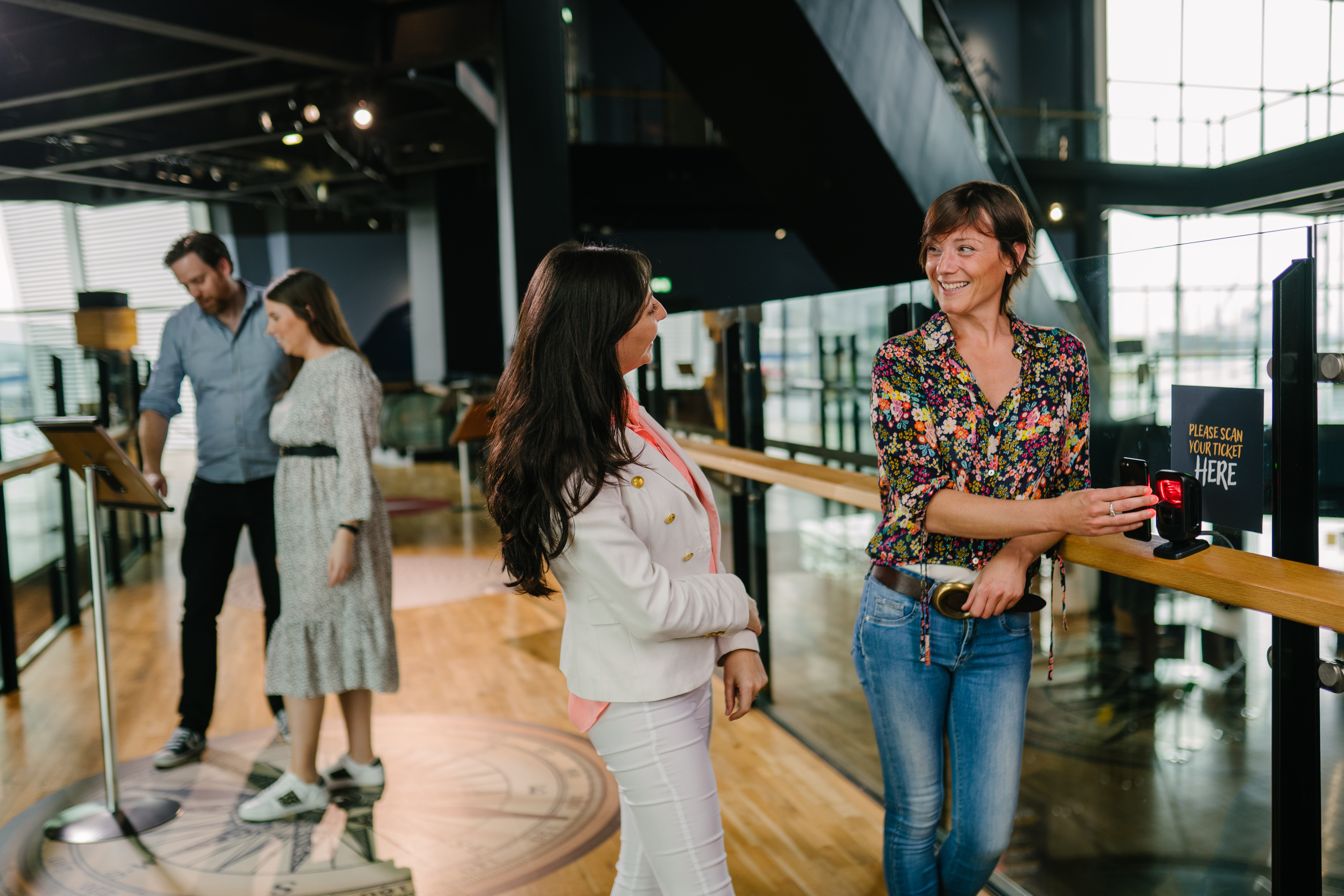 Whilst Government restrictions have eased, as the Titanic Experience and SS Nomadic are a mostly indoor experiences, we would encourage all our visitors to wear face masks whilst indoors to help protect our staff and other guests.
Re-usable masks will continue to be available to purchase in the Titanic Store or disposable masks will be available from a vending machine within the Atrium. Guests can also feel free to bring and wear their own mask.

Guests can enjoy an enhanced one-way route throughout the Titanic Experience and can feel confident they have plenty of space to move around yet be sure that they don't miss anything!

In addition, our Discovery Tour features an enhanced outdoor offering and is a fantastic way to learn more about the outdoor elements of Titanic Belfast's Plaza and the historic Slipways!
World Class Facilities
Our advanced cleaning regimes will continue to be consistent, and our building benefits from a fresh-air conditioning system. Hand sanitising stations will remain throughout the attraction.
See below for a summary of some of the facilities on offer to help you prepare for your visit!
See Full Visitor Information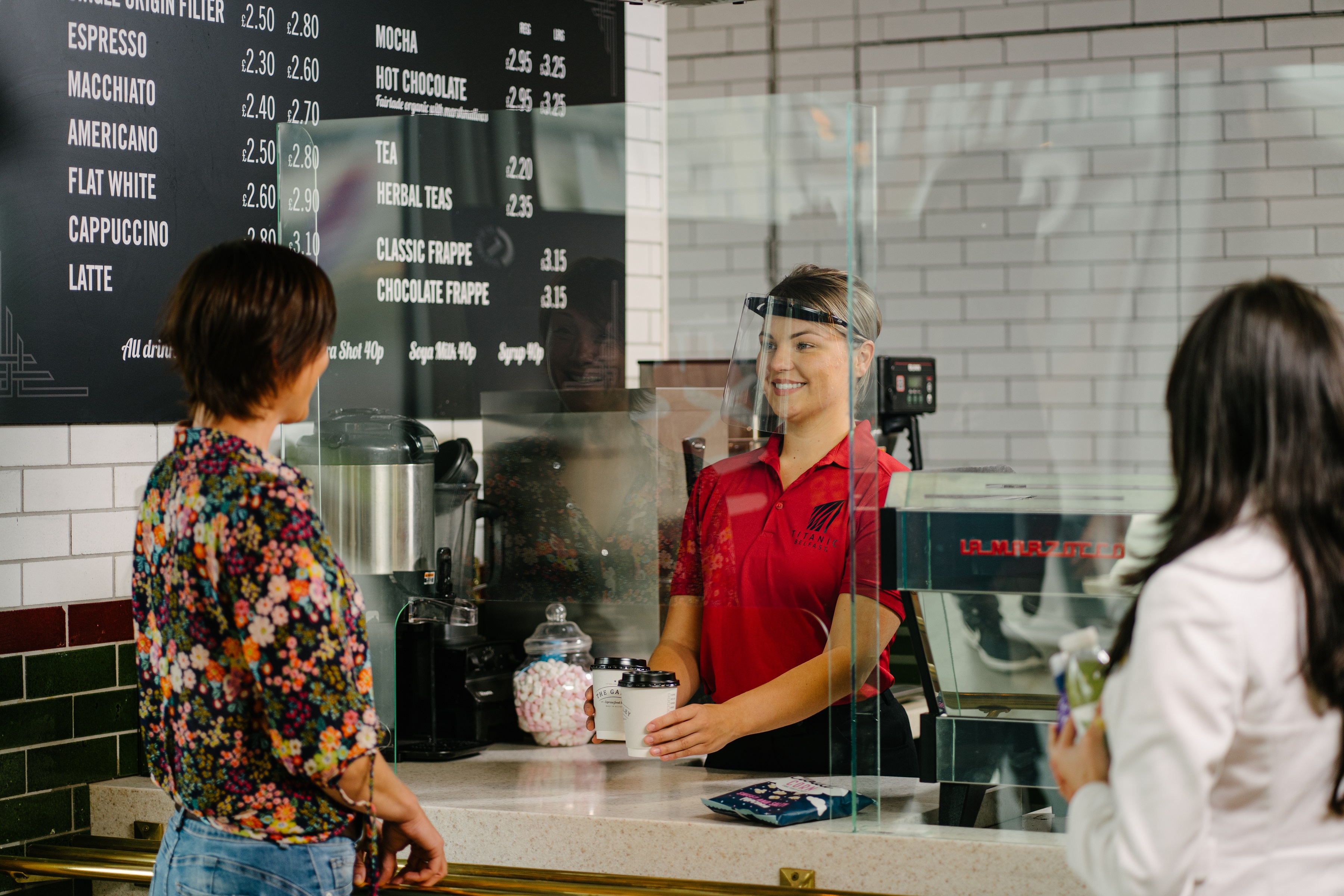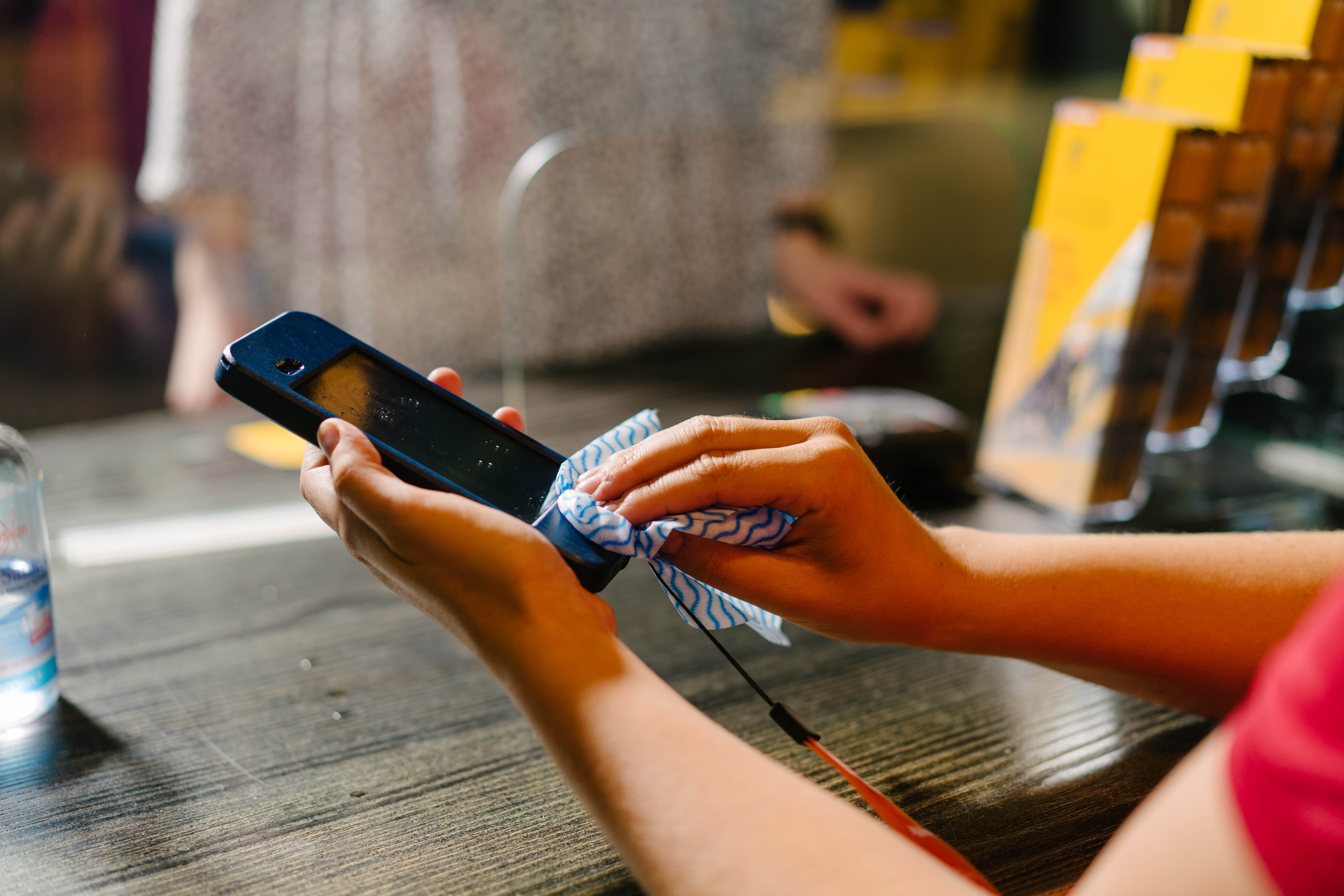 ATM Cash Machines
One ATM Cash Machine will be available on Level -1, however contactless payments can be used throughout the building.
Lockers
Locker facilities will be available on Level -1 and Level -2 for guest use – these will be cleaned regularly.
Eat and Drink
The Galley Café will provide a 'Grab and Go' food and drink offering of a full Barista range, speciality teas, beer, wine, sandwiches and delicacies. Seating will be available to eat in at the café.
The Pantry offers a range of hot food and drink options for a dine-in experience, as well as a special ​kid's menu for the little ones in the family to enjoy.
Hickson's Point will remain temporarily closed, reopening seasonally.
Additional seating will be available indoors as well as plenty of outdoor seating and picnic benches should you wish to bring your own food.
Shopping
The Titanic Store will be open for guests to enjoy, with guidelines in place to help manage visitor flow throughout.
Taxis and Parking
Our Taxi Pickup area will operate from Level -1 and our underground car park will be open as usual. Contactless payment is available at the parking machines on Level -1, please use this to pay for your ticket before exiting.
Award Winning Crew
Our fully trained crew will be on hand as guardians of our Customer Confidence Charter.
Although not mandatory, our staff may continue to wear face masks/visors or sit behind screens to help protect their colleagues and our guests.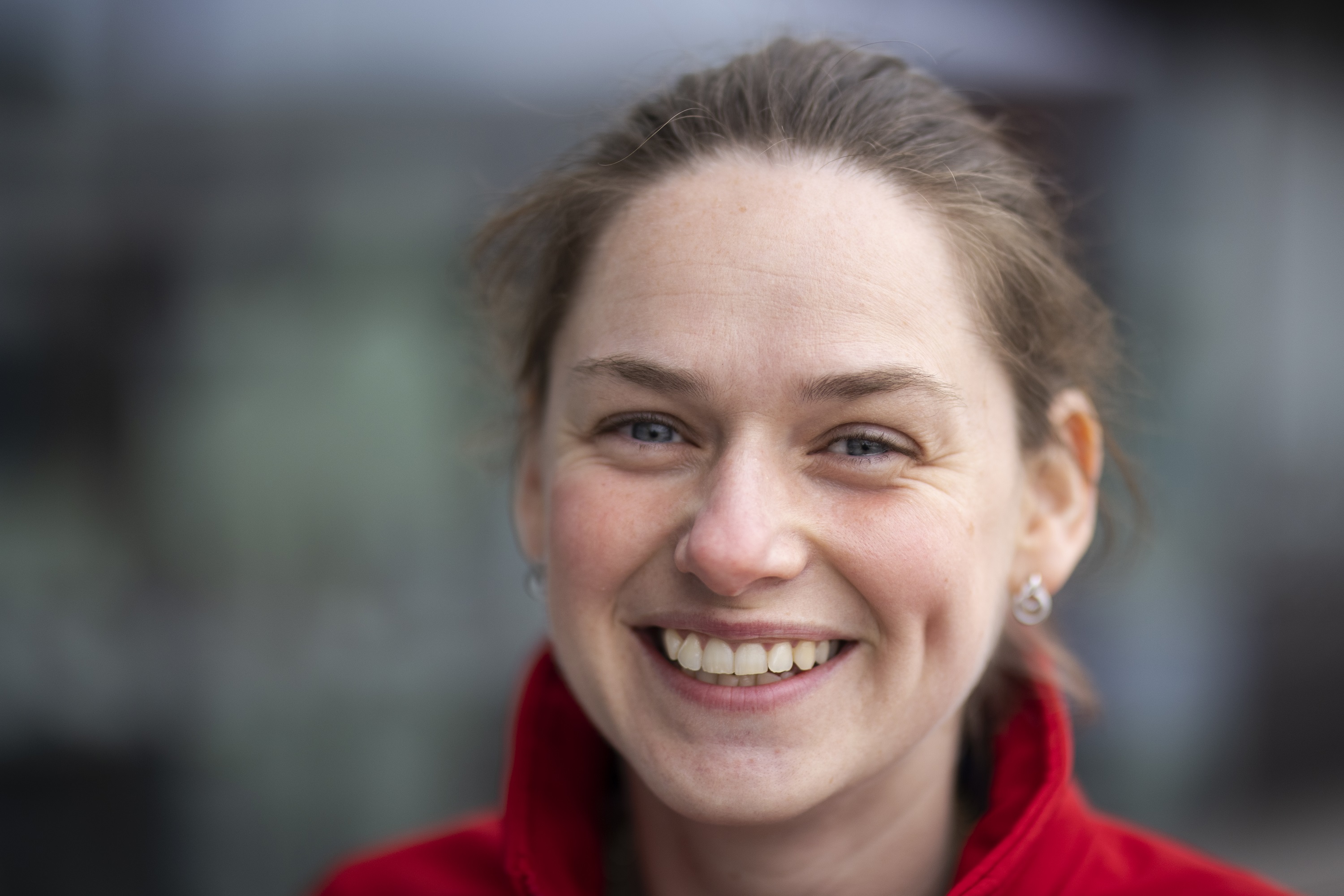 Five Star Experience & Industry Accreditation
We hope that our Charter helps reassure you that a visit to Titanic Belfast will feel as safe, welcoming and memorable as ever!