The largest ship afloat at the time and her little sister are both steeped in maritime history and encapsulate White Star Line luxury. However, the ships had much more in common than being constructed in Belfast. Take a look at some of the most notable sister ship similarities…


Consistent Construction
At Cherbourg the French port was not large enough to accommodate the 'Olympic' class liners such as Titanic and needed tenders to bring passengers and their baggage to and from the liners waiting off the port. Many shipping lines used converted passenger ferries but White Star Line ordered new purpose built tenders -  Nomadic for 1st and 2nd Class passengers and Traffic for 3rd Class passengers, cargo and baggage.
Both RMS Titanic and SS Nomadic were built by Harland and Wolff in their famous shipyards in Belfast at around the same time - Nomadic's hull was bound together by riveting teams on slipway No. 1 as her big sister's Titanic and Olympic took shape beside her on slipways No. 2 and No. 3 respectively. 


Cut From The Same Cloth...
In a competitive environment innovation was key not only to maintaining White Star's position as one of the world's greatest shipping lines but also established Harland & Wolff as a world-class shipbuilder. White Star Line placed their emphasis on style and luxury, therefore in the same way that RMS Titanic was a forerunner in transatlantic liners in terms of grandeur, Nomadic also set a precedent for tender ships, bringing style and elegance to a something that was designed for purely functional use.

Nomadic was fitted out to a similar standard as Olympic and Titanic with similar cushioned benches, tables, porcelain water fountains, gender-specific bathrooms and a buffet bar. The floor tiles on SS Nomadic, one of which can still be seen on display in the ship, were the same pattern as that used in the first-class dining saloon on RMS Titanic.
Today we are lucky enough to have the ship beautifully restored to showcase the striking features of Nomadic's interior including oak wooden benches and bespoke plaster mouldings.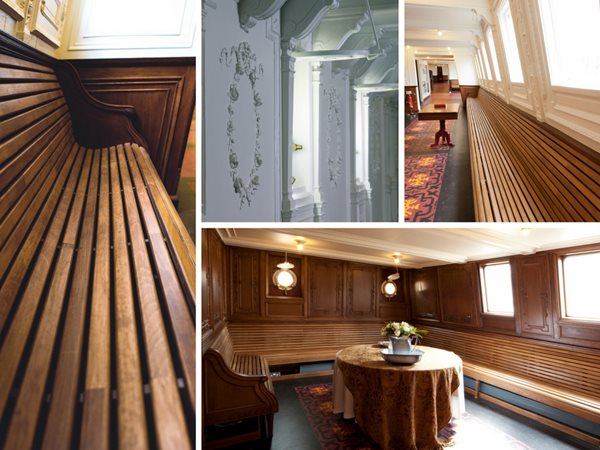 Identical Dimensions
RMS Titanic was the largest liner in the world at the time. As a tender ship, Nomadic would never reach such gigantic proportions. However, she is exactly a quarter the size of Titanic in every dimension! 


Class Comparison
The strict social class division during the 19th century was clearly defined on board both ships. First and second class passengers boarding SS Nomadic and RMS Titanic would have used separate entrances and would reside on different areas of the ships. SS Nomadic could ferry 400 first class passengers, 500 second class passengers, while Titanic could accommodate 833 First Class Passengers, 614 in Second Class and 1,006 in Third Class.


A Big Day For Belfast...
SS Nomadic's maiden voyage occurred on 31st May 1911 - the same day as Olympic's maiden voyage and Titanic's launch! Harland and Wolff planned these dates to coincide, hoping that it would stir publicity surrounding the Olympic class liners. It did – and over 100,000 members of the public, VIP ticket guests and journalists witnessed Titanic slip into Belfast Lough that day.
This is the last time Nomadic and Titanic were together until 10th April 1912 when they were reunited at Cherbourg, sadly for the last time.


Famous Faces
The decks of both Titanic and her little sister were walked by some famous faces including first class passengers Sir Cosmo Duff Gordon and his wife Lady Duff-Gordon, Denver millionairess Margaret (Molly) Brown and industrialist Benjamin Guggenheim.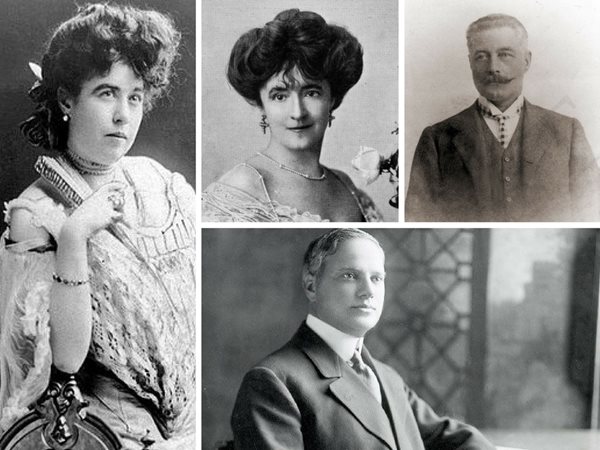 Later in her career Nomadic went on to host many more famous passengers including Marie Curie, Charlie Chaplin and Elizabeth Taylor and Richard Burton! 


---
SS Nomadic is the most tangible surviving link to the world's most famous ship, RMS Titanic. It is now interlinked with Titanic once again, having returned to her birthplace, joining the Titanic Experience. To find out more about the largest remaining Titanic artefact, visit SS Nomadic today!